#351. "esPhone"
Debuted: 3/8/12
Ranked 7th in the 2012 ES Avatar Countdown
In another rare adventure into the transcript threads, I looked in on the not-so-fantastic appearance of Genevieve Tubbs, and noticed the question she got (and jumped) asking which iPhone app features an icon with a yellow sunflower. The answer was Photos, and that set my twisted mind in motion to create an iPhone avatar with Hooly (sunflower) in the Photos icon and ES in the Contacts icon. Hooly is wielding her trademark baseball bat, and ES's icon has been shattered. Of course, this wasn't meant to, ahem, pull from any real life events, but it was extremely well pulled off. both in the inspiration and execution stages. Had it not had the double whammy of replacing the popular Sunchine avatar, and featuring the character (and storyline) other people would so like to see go away, this would be a no-brainer homerun.
Characters: ES, Hooly
Reference thread:
http://wwtbambored.com/viewtopic.php?f= ... 74#p423074
http://wwtbambored.com/viewtopic.php?f=1&t=38904
(Additional comment thread)
#352. "The Unicorn Wrangler"
Debuted: 3/9/12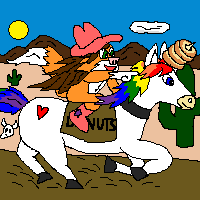 Ranked 3rd in the 2012 ES Avatar Countdown
TLITF posted a bizarre letter a child wrote to a TV meteorologist who visited their school, which was prolific with unicorns. One line in particular, that he would like to feed him donuts from the horn of a unicorn, prompted mini to respond that when her daughter Erin gets her own unicorn ranch, she'll train the unicorns to deliver donuts. That inspired me to draw the dainty little ball of cuteness Erin perched atop Rainbow Donkey in her finest pink cowgirl gear delivering donuts, some of which are stacked on Rainbow Donkey's horn. I turned this avatar into a full sized picture to sell in my shop, of which mini purchased a coin purse with the design on it.
Characters: Erin, Rainbow Donkey
Reference thread:
http://wwtbambored.com/viewtopic.php?f= ... 48#p423248
http://wwtbambored.com/viewtopic.php?f=1&t=38904
(Additional comment thread)
#353. "What is Mange?"
Debuted: 3/12/12
After a snafu prevented people from registering for the Jeopardy online test in the period immediately before they were issued, the good folks at Sony allowed those who missed out, like me, another chance to register. While I do not consider myself a serious candidate for the show, I do enjoy the thrill of taking the test, and jumped at the shot to take the makeup exam. ES signed up too. He doesn't seem to be too happy with the questions, though maybe MBRS will be his lifeline...
Characters: ES, MBRS
Reference thread:
http://wwtbambored.com/viewtopic.php?f= ... 59#p423459
#354. "Occupy the Pie"
Debuted: 3/14/12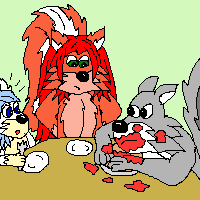 Mini pointed out it was Pi Day (3.14), not to be confused with Pie Day. I jumped on that with this avatar of ES "occupying the pie", a play on the Occupy Wall Street protests of the previous year. This was also inspired in a similar way by the subtitle of this year's Gridiorn Show I attended in February (Which asked "How many nuts in an Occ-u-pie?") ES is hogging the pie, as MBRS looks on disdainfully and poor little Angel sneaks in just her second appearance of the year as her typical horrified self.
Characters: ES, MBRS, Angel
Reference thread:
http://wwtbambored.com/viewtopic.php?f= ... 06#p423706
#355. "Rainbow Glue"
Debuted: 3/15/12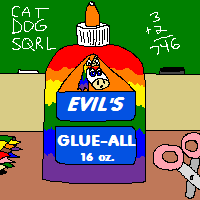 SSS posted a blurb about the HBO show "Luck", which is about horse racing, was canceled after three horses died suspiciously in separate incidents during taping of the show. I envisioned what might happen with Rainbow Donkey were he to succumb to such a fate, and thus the rainbow colored glue bottle, with the label riffing off the familiar Elmer's glue logo. DK thought I was sick, Beebs thought I was warped, Sprots thought it was cute until she found the inspiration for it. It was certainly one of my more reply-fetching avatars.
Characters: Rainbow Donkey
Reference thread:
http://wwtbambored.com/viewtopic.php?f= ... 33#p423833
#356. "Old Possums and Young Tramps"
Debuted: 3/18/12
DK had taken to posting ridiculous profiles of old men from a dating site she spends time on, and noted how many nasty, old, ugly, fat men were requesting young, thin, good looking chicks as companions. In the "it never hurts to ask" vein, I submitted this avatar of a beer-bellied Buster showing off his capture of the lovely, but trampy Skanki Skankova. While I am a fan of both the inspiration and concept of this avatar, I don't particularly care for how it came out, as Skanki looks somewhat hideous as she licks Buster's face. But it got lots of love on the Bored, and these two really were made for each other...
Characters: Buster, Skanki
Reference thread:
http://wwtbambored.com/viewtopic.php?f= ... 67#p424167
#357. "Deliquescing Sprots"
Debuted: 3/20/12
Ranked 13th in the 2012 ES Avatar Countdown
Upon my challenge for everyone to find inspiration to start a new thread every day, Sprots chose to post the word of the day from Merriam Webster, as well as a few she had backlogged. She would not give the definition, but use the word in a sentence.... most of the time, I couldn't figure out what it meant from the context. One particular word, "deliquesce", was obvious from the context, and I noted that Sprots probably deliquesced (melted) at the sight of ES at her screen door. After she insisted I must not know what the word meant, I drew this avatar as a visual definition. It looks a bit different than my usual artwork, but sweet nonetheless. It is also the first time I ever used Photoshop to add a color gradient to a picture I drew solely for use as an avatar, which helped capture the puddling effect at Sprots' feet, or where her feet should be anyway. It was commented on it chat that the avatar had the apperance of a "Madonna and child" painting, a comparison I did not consider while drawing it...
Characters: ES, Sprots
Reference thread:
http://wwtbambored.com/viewtopic.php?f= ... 75#p424375
#358. "ES and the Amazing Technicolor Mangecoat"
Debuted: 3/23/12
A lizard scooped up by TAH that Kiki mentioned could change from brown to green led to this avatar of ES changing color. Just my second animated avatar ever, this one was formed from one drawing with seven different color schemes for ES, and a different expression on Angel's face for each one pulled off by only changing her mouth. Angel goes from surprised to shocked to giddy as ES goes through his rainbow of colors. While I thank makeagif.com for allowing for cute little mini cartoons like this to be made for free, I wish they'd have kept their name off the finished product...
Characters: ES, Angel
Reference thread:
http://wwtbambored.com/viewtopic.php?f= ... 87#p424687
#359. "We Stand On Guard For Thee"
Debuted: 3/26/12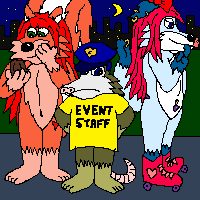 The Merry Man George Fox posted a link to a story about Ontario legalizing brothels and allowing prostitutes to hired security to protect them on the streets. That was just begging for this avatar featuring the two women of ill repute MBRS and Skanki doing their things in the red light district while a tough looking Buster stands guard watching out for trouble. This avatar was drawn during an afternoon awake with kidney stone pain, and probably wouldn't exist without that time that wasn't being used for sleep.
Characters: MBRS, Buster, Skanki
Reference thread:
http://wwtbambored.com/viewtopic.php?f= ... 73#p424873
#360. "You're a Rich Squirrel"
Debuted: 3/29/12
With the Mega Millions drawing running into record territory, BiT asked questioned whether it would really be better to win an insanely large jackpot like the estimated $500,000,000 the March 31st drawing would rise to, or just a regular lottery jackpot of a few million. After all, that much money would instantly make you one of the wealthiest people in America, which would also make you one of the most sought after. I mentioned to BiT he'd have plenty of volunteers from the Bored if he wanted to split the half billion dollar pot. MBRS appears to be the first in line, and is already dreaming of how she'll spend her share. I hope that isn't real fur, I have no idea if PETA would hurl blood on a squirrel or not....
Characters: MBRS
Reference thread:
http://wwtbambored.com/viewtopic.php?f= ... 23#p425123
#361. "I Dream Of Evil"
Debuted: 4/2/12
The ever inquisitive (but NEVER argumentative) tower wanted to know if people thought the blind could have dreams since they can't see. This brought out a number of responses from others stating of other senses they've experienced in dreams before, such as smell and hearing. Tower seemed annoyed that he was being shot down, so I added this avatar to mine afterwards of Sprots experiencing the wonderful sense of touch with ES in her dream.... or maybe given the expression on the face of the Sprots in reality, it could be a nightmare. Either way, the sheets are probably going to have to be washed in the morning. The design on the blanket is none other than Rainbow Bronco.
Characters: ES, Sprots
Reference thread:
http://wwtbambored.com/viewtopic.php?f= ... 34#p425534
#362. "Directing Twisters"
Debuted: 4/5/12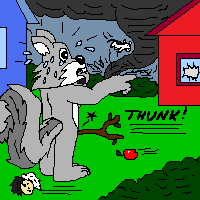 When a series of tornados broke out in the Dallas area on April 4th, one came through Cal's hometown of Forney. He posted a picture taken by one of his neighbors of him pointing off in the distance as a twister in the background roared by. Bob, who as a Californian is a certified tornado expert, asked if he kept helmets around for his family since a lot of tornado deaths are due to head trauma. I mentioned a cup may be a good idea as well, then drew ES's takeoff of the tarnado director pic with ES getting a stick impaled into his groin at about 200 miles per hour. The infamous Cruella DeVille head from old Annie/ES lore makes an appearance blowing by in this avatar.
Characters: ES
Reference thread:
http://wwtbambored.com/viewtopic.php?f= ... 87#p425787
#363. "The Painter of Lite"
Debuted: 4/7/12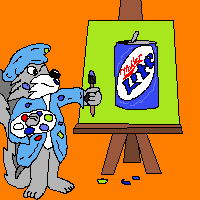 The passing of renowned painter Thomas Kinkade was noted on the Bored. I had familiarity with some of his works through products his artwork appeared on at work, and knew of his nickname "The Painter of Light". So, I had ES pay tribute to him with this avatar where ES is painting a can of Miller Lite. Punster Frogman would be so proud...
Characters: ES
Reference thread:
http://wwtbambored.com/viewtopic.php?f=1&t=39305
#364. "Aries"
Debuted: 4/9/12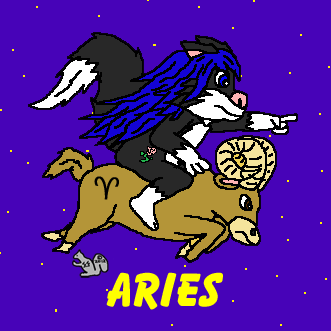 Coming out of Easter, I wanted to change avatars, but didn't want to reupload one of my recent ones, nor had time to make a new one. So I pulled this design I drew the day before for the zodiac collection in my store. It's a much simpler design than the elaborate graphics I created for t-shirts, and done especially for the jewelry and keychains. This one features Aries model Odyssey riding a charging ram across my typical dark purple starfield....
Characters: Odyssey
Reference thread: None
#365. "Buzzing the Tower"
Debuted: 4/10/12
Tower's inquisition continued with another batch of questions that had only one right answer for him. That led to this harsh, but appropriate avatar of ES being bugged by a gang of gnats while MBRS unleashes the Raid on them. As the Found It post, I asked "If a pest were to see bug spray in their dream, would it be effective?", a reference to the earlier dream thread.
Characters: ES, MBRS
Reference thread:
http://wwtbambored.com/viewtopic.php?f= ... 94#p426194
#366. "Pot Stirrer"
Debuted: 4/16/12
In the wake of the tower55 shenanigans, the Bored got another wannabe troublemaker in the form of emilyspere1, who did not like the reaction the Bored had to his one, out of the blue, controversial post about teen pregnancy rates. When flock noted how thrilled he was to see "another liberal pot stirrer" on the Bored, I asked what was wrong with a little pot stirring, and drew up this avatar of ES swirling up whatever happens to be floating in that toilet bowl in front of him. The perspective is a little wonky, and the expression is a bit off (even with the red eyes), but the monogrammed towel is a nice touch.
Characters: ES
Reference thread:
http://wwtbambored.com/viewtopic.php?f= ... 90#p426790
#367. "The Miseducation of Angel Squirrel"
Debuted: 4/20/12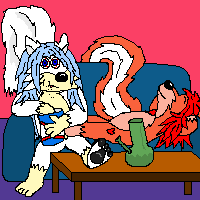 Ranked 4th in the 2012 ES Avatar Countdown
To celebrate 4/20 (Since 4:20 is traditionally recognized as pot smoking time), I made up a nice little avatar of Angel and MBRS mellowing out on the couch after a few hits on that forboding looking bong sitting on the coffee table. Angel appears to be reacting to the stoning quite nervously, as she stares off into space while wolfing down a bag of Ruffles. MBRS, on the other hand, seems to be somewhat experienced at this and is kicked back and relaxing after her dance with Mary Jane. Scroll down a bit in the reference thread to see Fanny's comment. She not only gave this avatar its title, but offered up a bit of an alternate possibility for MBRS's expression and position. Gasp!
Characters: MBRS, Angel
Reference thread:
http://wwtbambored.com/viewtopic.php?f=1&t=39501
#368. "Thanks Sprots!"
Debuted: 4/23/12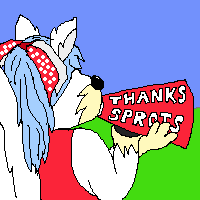 This image was inspired by this avatar Sprots had used as her avatar for about a month: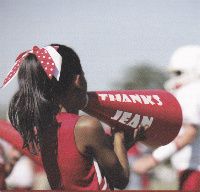 I had tried to find a way to turn that avatar into an ES picture for several weeks, but Sprots finally gave me the inspiration when she pleaded with me to take down the poor picture of Angel high on pot as my avatar. I noted I might keep it up for a long time to spite her, but I didn't. Instead, I substituted Angel for the cheerleader (Which also fit into Sprots asking for a return of Majorette Angel from last year's MM parade, which I'd had up again recently), and changed Jean to Sprots on the megaphone... Angel's way of saying thanks for releasing her from MBRS's evil drug culture clutches....
Characters: Angel
Reference thread:
http://wwtbambored.com/viewtopic.php?f= ... 44#p427444
#369. "Beware the Shadow"
Debuted: 4/25/12
Mini's cat Shadow was kind enough to be the first to wish ES a happy birthday on the Bored, but issued ES a warning that it still didn't mean she wouldn't try to eat him if he stopped by since it was her nature. So I gave Shadow his avatar debut, threatening poor ES, who is sitting on her deck drawing a picture. I reposted this avatar on Shadow's birthday, May 7th.
Characters: ES, Shadow
Reference thread:
http://wwtbambored.com/viewtopic.php?f=1&t=39580
#370. "MBRS and the Pips"
Debuted: 4/27/12
The blue heron cam set up by Cornell University became a sensation on the Bored when Marley posted the link to it on March 31st (Apparently it also caught a lot of attention across the country as well). The eggs in the nest began to hatch in late April, and apparently the little holes first pecked in an egg by the soon-to-be newborn chicks are called "pips" The pip watch was on, and I jumped on a post by Marley, who happily announced that were now definitely two pips, by drawing this avatar and asking to be notified when there were three pips. Of course, the avatar is a reference to Gladys Knight and the Pips (of whom there were three), with MBRS is the diva role, and Uly, ES, and Esto (left to right) providing the backing vocals. The costumes in this one are kick-ass, and I only regretted not having the "Pips" turned the opposite way so I could put a big ol' carnation on their fabulous 70's style suits.
Characters: ES, MBRS, Uly, Esto
Reference thread:
http://wwtbambored.com/viewtopic.php?f= ... 78#p427778
#371. "Still Rallying On"
Debuted: 4/29/12
The yearly Denver Nuggets rally squirrel avatar, this one for the first round playoff series between the Nuggets and Lakers. Fanny requested the classic Rally Squirrels, and I did my best to imitate my style circa 2009 to add Kobe Bryant in place of the lame palm tree I used last time. I also changed the number of ES's Nuggets jersey from 31 to 35, since Nene was traded earlier in the season, and Fanny's new fave was the "Manimal". The Nuggets went 1-3 with this avatar posted, and 2-1 without it, nearly coming back to knock off the Lakers after the early Rally Squirrels induced deficit....
Characters: ES, MBRS
Reference thread: None
#372. "The Scream"
Debuted: 5/3/12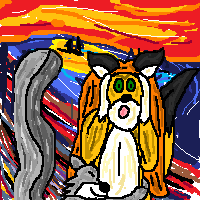 Ranked 1st in the 2012 ES Avatar Countdown
I checked my Yahoo mail one last time before going to bed on a late Wednesday night, and spotted a story about Edvard Munch's famous painting The Scream selling for a record $119 million plus at an auction. Before I could go to bed, I just had to draw out the vision that popped into my mind of Sprots doing the scream thanks to ES latching onto her. The scribbly style of Much is captured perfectly in this avatar, and the scene was such a winner, that several BB's who never comment on my avatars just had to chime in on how amazing it looked. The foreground and background were drawn separately and fused together using Photoshop, but all of the sketch and color work was done in good old MS Paint...
Characters: ES, Sprots
Reference thread:
http://wwtbambored.com/viewtopic.php?f=1&t=39688
#373. "Free At Last!"
Debuted: 5/6/12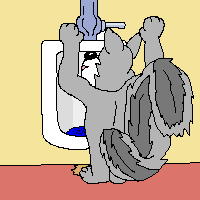 A five month battle with a kidney stone ended finally with the 5 mm rock finally exiting via natural causes, and I had to celebrate with this avatar of ES raiding his arms in victory at the urinal. A TMI avatar to go with a TMI story....
Characters: ES
Reference thread:
http://wwtbambored.com/viewtopic.php?f=1&t=39732
#374. "Boys Love Rodents"
Debuted: 5/9/12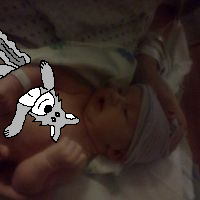 For the birth of christie's first grandchild, she put up a picture of the baby for her avatar. As the hijacker of avatars, I took it and added the infant cradling an ES doll. Awwww...
Characters: ES, Grandson1111 (real life)
Reference thread:
http://wwtbambored.com/viewtopic.php?f= ... 12#p428712
#375. "Diamonds Are Forever"
Debuted: 5/10/12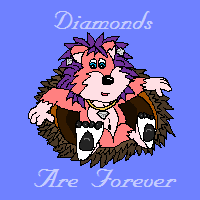 In chat the night before, hedgehogs came up, and Sliver noted that she always had a vision of a hedgehog with diamonds as an advertisement. Having never drawn a hedgehog before, I wanted to give her vision a shot, and came up with this cute little pink hedgehogette wearing a little diamond bling. I had already decided to call her Diamond, Fanny later added the Lil to her name. Whether or not she sticks around remains to be seen.
Characters: Diamond Lil
Reference thread:
http://wwtbambored.com/viewtopic.php?f=1&t=39800
Avatars 376-400 >>>
<<< Avatars 326-350