#276. "Ninja Dog"
Debuted: 7/17/11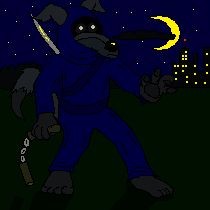 Ranked 4th in the 2011 ES Avatar Countdown
Sliver mentioned the previous night in chat that BeBe had an uncanny ability to move about the house in an absolutely quiet manner, like a ninja. It was an avatar that was too good to pass up, so I drew BeBe as a stealthy assassin of the night and put it up for Sliver's birthday the next morning. There were some complaints that the avatar was too hard to see, but that was its beauty of course. There are many things I love about this avatar, but perhaps none more than the glowing eyes. This avatar was loaned to BeBe when she registered for the Bored as "ninjadog" a month later.
Characters: BeBe
Reference thread:
http://wwtbambored.com/viewtopic.php?f=1&t=35264
#277. "Sofa King Hot"
Debuted: 7/20/11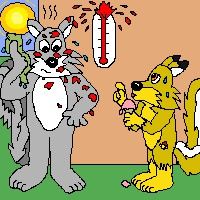 July 2011 saw a rather brutal heat wave across most of the eastern 2/3 of the nation, and poor Sprots was caught in Iowa for a part of it and was happy to get back to western Colorado where it was much cooler. I told her ES wanted to come along with her, and showed her why as a baked ES deals with a mercury bath from the exploded thermometer. This avatar also features the first appearance of one of the squirrel kids (Sully) without the other.
Characters: ES, Sulphur
Reference thread:
http://wwtbambored.com/viewtopic.php?f= ... 87#p390487
#278. "I Kissed a Squirrel"
Debuted: 7/24/11
Ranked 1st in the 2011 ES Avatar Countdown
Bob, always happy to pass along the latest gay marriage news, rejoiced in New York's first legal same sex couples, and up came this avatar of MBRS planting a surprise kiss on the cheek of Angel. Angel is usually at her best on her own, and when she appears with MBRS her reactions of horror are more playing the straight man to MBRS's wild side..... but this avatar is all about the reaction of Angel to the kiss. Though it wasn't my intention (Ha!), there were apparently a number of different interpretations of what her reaction was atually showing.... from appalled and aghast to flustered and pleasantly surprised. The story behind this avatar truly is in the eye of the beholder, and was good enough to earn this avatar the honor of being the best of the year in the annual countdown.
Characters: MBRS, Angel
Reference thread:
http://wwtbambored.com/viewtopic.php?f= ... 36#p391036
(Found It)
http://wwtbambored.com/viewtopic.php?f=1&t=35376
#279. "Nut Cutter"
Debuted: 7/27/11
Wintergreen posted of a surgery he had to have to remove a cancerous growth in his foot, and of course WG being the eternal optimist and always maintaining his wonderful sense of humor, sprinkled in his usual funny comments throughout his post. What does that have to do with this avatar? When WG talked about how much they cut out of his foot, all I could think of was how his former cat, the vengeful Bruce, would have wanted them to cut off a bit more. So I put my own neutered cat Ody in an avatar threatening ES to accompany my reply. It caused a bit of confusion, and on further reflection I decided I didn't care much for this avatar... replacing it with "I Kissed a Squirrel" after just one day.
Characters: ES, Ody
Reference thread:
http://wwtbambored.com/viewtopic.php?f= ... 09#p391509
(Found It)
http://wwtbambored.com/viewtopic.php?f=1&t=35422
(Saucy confusion thread)
#280. "Take a Hike!"
Debuted: 7/28/11
Sprots posted that she was going hiking with the dogs, and included an image of where she was headed which included her favorite reading spot. The image didn't show up for most people, so I kindly filled in the visual for everyone. Apparently Sprots' reading spot is being used by ES at the current time, but I'm sure he'll scooch over for her.
Characters: ES, Sprots
Reference thread:
http://wwtbambored.com/viewtopic.php?f=1&t=35441
#281. "ES Gets OJ'ed"
Debuted: 7/31/11
One the hike, Sprots' dog Annie got injured and Sprots said she might need advice from Sliver on how to handle a gimpy dog. I responded that at least she knows how to handle a gimpy squirrel, and drew this avatar of Nurse Sprots dumping a wheelchair-bound ES off a cliff. Sprots of course loved it, though it lasted just a day and I'm a bit embarrassed by the crummy rendering of the wheelchair. The title of this avatar comes from a running joke between me and my Dad, who I often have to escort around in his wheelchair... with the OJ referencing the scene in The Naked Gun where OJ Simpson's character is carelessly left to roll down the aisle in the upper deck of a stadium and catapults over the edge.
Characters: ES, Sprots
Reference thread:
http://wwtbambored.com/viewtopic.php?f= ... 49#p392149
#282. "I Want My Raff-er-bee!"
Debuted: 8/1/11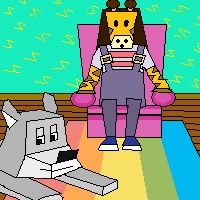 Ranked 2nd in the 2011 ES Avatar Countdown
I wanted to draw an avatar for Rafferbee's birthday, and with only the coincidence that she was born the same day MTV went on the air as an inspiration, I painstakingly drew up this little masterpiece. For those who had the misfortune of not living in or not paying any attention to the golden era of MTV, the avatar is a tribute to one of the most popular music videos of the MTV era, Dire Straits' "Money For Nothing", with Rafferbee playing the skinny blockheaded dude, and ES as the blockheaded dog. The one oversight I made was adding ears to poor Raff's giraffe, but it's possible that any additions to this pic would have only served to ruin it. This avatar seems to have caught a lot of attention somewhere out there in the blogosphere.
Characters: ES, Rafferbee
Reference thread:
http://wwtbambored.com/viewtopic.php?f=1&t=35492
http://wwtbambored.com/viewtopic.php?f=1&t=35497
(TBone's thread)
#283. "The Stopover"
Debuted: 8/3/11
This avatar is kind of a mishmash of several different storylines on the Bored that came together thanks to one bad prediction by me in my LS answers. I said I'd bet a C-note that Fanny would likely answer Slade to "Cum on Feel the Noize" in elwood's LS game, which of course she didn't, then went on to chastise me for such a foolish prediction, and told me I could have ES drop off the hundred while he was picking up her new Pitbull CD which Fanny recommended for the road trip he and the girls (Lizbit and BeBe) were making to Colorado to hike with Sprots. The background is long-winded, but the resulting avatar well worth the long explanation. The perspective of ES looking up at Fanny as she answers the door with the look of someone who knows he's on the bad end of a business transaction as he exchanges the Benjie for the CD. An impatient Lizbit and BeBe waiting in the Camaro in the background is just an added bonus. While the artwork on the CD was replicated as best as possible to resemble the actual Pitbull CD Fanny was referring to, Planet Pit, Fanny informed me she owns the deluxe edition which had a different color.
Characters: ES, Fanny, Lizbit, BeBe
Reference thread:
http://wwtbambored.com/viewtopic.php?f= ... 54#p392654
(LS thread inspiration)
http://wwtbambored.com/viewtopic.php?f=1&t=35534
(Fanny's thread)
#284. "Bedtime For Fanny"
Debuted: 8/8/11
The subject of thermostat temperatures and bedtime attire came up in chat one night, and Fanny' description of how she had to bundle up to sleep in her mom's basement inspired this sofa king adorable avatar of Fanny in her PJ's. My only additional comment to this avatar is that the yellow and purple hand-stitched leg warmers were a tribute to the infamous Laker socks Fanny made (and had memorialized in an avatar) last year.
Characters: Fanny
Reference thread:
http://wwtbambored.com/viewtopic.php?f=1&t=35579
#285. "Cowardly Sunflower"
Debuted: 8/11/11
Another entry from my avatar lost and found, I decided to use this pic as my annual tribute to Hooly on her birthday this year. A couple things of note about this avatar.... first off, the title is not actully a dis. Second of all, this avatar was drawn on May 29, 2009...... yes, it is over 2 years old, which is amazing given that it fits in well with much of my current ES artwork, and is light years ahead of what I was drawing at the time (See Part 2 of this anthology). Back on the night mentioned, me and Hooly were discussing in chat about her registering an MM to use to taunt ghost, who was in the middle of her "cowardly anonymous namechangers" hysteria. The MM was supposed to incorporate "cowardly" and "sunflower" somehow, though time has made me forget exactly how we had planned to register it.... but as it turned out, Hooly never did. I had already drawn the avatar anyway, and did more than just slap a quick drawing together... making it incredibly detailed for my usual fare at that stage in ES's art career. I was incredibly impressed with the result, as were the few people I showed it to, and was always a bit dismayed that I never got the chance to show it off on the Bored. Thus why I finally decided to work it in for this year's birthday avatar. I am pleased with the fact that it was indeed noticed by some and drew compliments without generating any unecessary drama like with the Heartbreaker avatar 2 months prior.
Characters: Hooly
Reference thread: None
#286. "Hold the Rodent!"
Debuted: 8/12/11
Esto commented that a thread he posted about a "creepy find" was getting more hits than one about "the next great burger". The natural next step was for uly to post an avatar of Creepy King, to which Sprots claimed the Found It. I then posted this avatar of Sprots enjoying a burger with a little extra secret ingredient and asked her if she "found it" before or after she ate the burger. All the fancy ketchup in the world can't cover up that taste....
Characters: ES, Sprots
Reference thread:
http://wwtbambored.com/viewtopic.php?f= ... 42#p394042
#287. "The Birdbath"
Debuted: 8/16/11
ten96lt was invited to contribute his opinions of everyone's favorite rodents in a little research called "Project Squirrel". A few hours before this post, ksbirchtree copied a post from a quilting blog she reads about some bird-loving, bird-feeding lady complaining about the squirrels. I combined the two to respond to the Project Squirrel post by saying that I hoped no birds got a voice in the survey, and submitted this avatar of a bird throwing a fit over a squirrel in the birdbath. For this picture, I resurrected one of my old characters, one who was around even before ES... the original femme fatale of the ES universe, Sandy. Sandy appears in the birdbath of the portrait I drew for astrnomr back in 2008, a pic which I expanded on in another project... and I still so connect her with the birdbath scene that she was the only choice in my mind to star in this avatar. Sorry MBRS.
Characters: Sandy
Reference thread:
http://wwtbambored.com/viewtopic.php?f= ... 19#p394719
http://wwtbambored.com/viewtopic.php?f=1&t=35696
(Squirrel complainer thread)
#288. "Mental Health"
Debuted: 8/19/11
Vettech announced to the Bored that she was taking a "mental health" day off from work on this day. I couldn't read that subject line without the image from the cover of Quiet Riot's breakthrough album "Mental Health" stuck in my head, so I avatarized it by drawing her character strapped in that slick looking straightjacket and wearing that metal mask that used to scare the living crap out of me as an 8 year old kid watching the video for "Cum on Feel the Noize". The rendering is downright frightening looking.
Characters: Vettech
Reference thread:
http://wwtbambored.com/viewtopic.php?f= ... 74#p395274
#289. "Somewhere Over the Monument"
Debuted: 8/20/11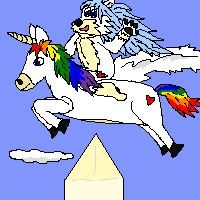 Ranked 6th in the 2011 ES Avatar Countdown
The previous avatar was so creepy looking compared to my usual artistic offerings, that despite how well it turned out, I couldn't help but cringe when I saw it with one of my posts. So in looking for a new inspiration the next day, I got a little help from one of PKS's friends and one of the most outrageous criticisms ever posted on the Bored. The friend of PKS took a picture of a rainbow that was perfectly lined up so as to appear to balance on top of the Washington Monument. While I already had a crude concept of the avatar that was to follow in my head after seeing the picture, it became a must-draw when jeemie tried to play killjoy and note that while the picture looked neat, it probably wasn't all that hard to do.... as if you could even try to set up a picture like this if you were trying. So I drew Rainbow Donkey leaping over the Monument, and went for cute overload by having Angel mounted on his back, and stated that this was hard to draw. Rainbow Donkey no longer looks laughably bad, though he's still a sight to behold, and if looking at this picture doesn't make you smile, I truly pity you.... and so do Angel and Rainbow Donkey.
Characters: Angel, Rainbow Donkey
Reference thread:
http://wwtbambored.com/viewtopic.php?f= ... 04#p395404
#290. "The Empty Glass"
Debuted: 8/25/11
Sprots put up another tempting avatar of her puppy Annie asleep next to a wine glass. Inserting ES to snuggle up with her was the natural thing to do, though it seemed to mess up what made the picture so great in the first place, the glass. Sprots bit her tongue, as did everyone else, so this hijack was short-lived.
Characters: ES, New Annie (real life)
Reference thread: None
#291. "Hit the Showers, Stinkerball!"
Debuted: 8/29/11
Ranked 8th in the 2011 ES Avatar Countdown
Snaxx began to update us on the playoff chase of his new favorite minor league team, the Richmond Flying Squirrels. The Squirrels seemed to be hovering just out of the wildcard spot for several weeks. One of Snaxx's team-related avatars he used showed the Flying Squirrels mascot character pitching on a mound.... only he looked more like a skunk, which prompted uly to ask if the team was using the stinkerball. I played off of that older reference in creating this avatar in hopes of rallying the team. Winnie, my flying squirrel character, is seen here relieving the little stinkerballer. Poor little guy, but his presence during much of the stretch run helped propel the Squirrels to a playoff berth, though they would go on to lose in the championship 3 games to 1.
Characters: Winnie, Stinkerball
Reference thread:
http://wwtbambored.com/viewtopic.php?f= ... 61#p396861
(Found it)
http://wwtbambored.com/viewtopic.php?f= ... 18#p394818
(Stinkerball reference)
#292. "Don't Walk Out On MBRS"
Debuted: 8/31/11
In a thread begun by earendel about his trivia team's exploits with a challenged question, Weyoun interjected with a tale about a question in a bar trivia contest he was involved in that the coordinator refused to accept, and casually mentioned that he and his friends skipped out in protest without paying the check. This got under the skin of a few people who were upset Weyoun had stiffed the bar over his frustration with the trivia host, and it gave me ther excuse I needed to work MBRS into an avatar before my most diverse month had come to an end. This was her only and finest appearance in the month of August, and someone is about to get a bottle of beer over their head, on the house of course.
Characters: MBRS, Weyoun
Reference thread:
http://wwtbambored.com/viewtopic.php?f= ... 60#p397060
#293. "M! V! P!"
Debuted: 9/6/11
The Flying Squirrels were declared the wild card champions in one of the most bizarre playoff chases in professional sports history... declared the winners of their final game despite taking the lead in an inning that could not be completed due to rain, and finishing with just a 0.5 game lead on the Bowie Baysox due to an earlier rainout that was not made up. With rain affecting much of the final week of the Eastern League season, I drew on that to have my soggy mascot for the Squirrels, Stinkerball, hoist up the MVP trophy. Conrats young lad, you won't get any run support once you get called up to the Giants...
Characters: Stinkerball
Reference thread:
http://wwtbambored.com/viewtopic.php?f= ... 06#p397706
(The closest to a Found It thread for this avatar)
#294. "ES's Young Fans"
Debuted: 9/7/11
Done totally out of boredom and a lack of inspiration, I hijacked this avatar posted by Kiki of her grandkids Chapman and Kennedy and added some dialogue. Not my most creative exploit, nor did it draw even a whimper from the Bored.
Characters: Chapman, Kennedy (both real-life)
Reference thread: None
#295. "Ghost in the Machine"
Debuted: 9/8/11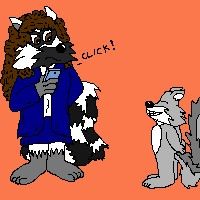 ghost gave us one of her trademarked gripes about her struggles in everyday life with technology, this time her nice new cell phone going kaput and trying to get a replacement. One of the few parts I was able to grasp dealt with her being able to snap a picture of her kitty with her new phone and put it up as her phone's background. I recommended a certain squirrel might look cuter as her phone model, and made this avatar of ghost trying to snap a picture of the always ready for his closeup ES.
Characters: ES, ghostjmf
Reference thread:
http://wwtbambored.com/viewtopic.php?f= ... 62#p398262
#296. "This Bow's For You"
Debuted: 9/12/11
Drawn for Sprots' birthday, here we find ES has a gift for Sprots, if she would dare remove the bow. A very simple, yet perfect avatar to reflect the joy ES gets whenever he thinks Sprots may finally give him that scritch....
Characters: ES
Reference thread:
http://wwtbambored.com/viewtopic.php?f= ... 16#p398816
#297. "The Jazzy vs. The Rascal"
Debuted: 9/13/11
Kiki had minor knee surgery and was posting a picture of her knee post-op. While everyone was sending out their well-wishes, ES was of course being his tormenting little self, and now must outrun Kiki and her Jazzy of Death. I think the only accessory I forgot to include on the Jazzy was a little handicapped decal so she wouldn't have to walk from the back of the CVS parking lot.
Characters: ES, Kiki
Reference thread:
http://wwtbambored.com/viewtopic.php?f= ... 94#p398994
#298. "Mirror, Mirror"
Debuted: 9/16/11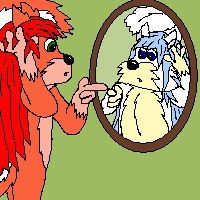 Kiki threatened to pay me back for poking fun at her in her knee surgery thread, and TBone commented that Kiki needed to heal up soon since there seemed to be a few youngsters who needed to be kicked in the kiester. I of course played dumb and said I would go after those wise guys myself, to which Kiki responded that I needed to look in the mirror. I stated that my mirror was out of order, and drew this avatar showing MBRS looking at her reflection only to see Angel staring back at her. Perspective killed MBRS in this one, though it is very much saved by a perfect rendering of Angel staring back just as surprised as MBRS.
Characters: MBRS, Angel
Reference thread:
http://wwtbambored.com/viewtopic.php?f= ... 68#p399468
#299. "I Could Just Eat You Up!"
Debuted: 9/18/11
After getting a goopy medicine for Ody from the vet, and mentioning that one of the methods of giving it to him was to rub it into his fur and let him lick it up. While not all cats will do this, I showed in this avatar that there are always those who will volunteer for one unwilling, as MBRS prepares to ungoop ES here. Other than MBRS looking a bit obese and not quite capturing the right look on her face, there's actually a lot I like about what could have been a real train wreck of an avatar. The goop got another meaning as the Bored server problems were reaching a crisis point at the same time.
Characters: ES, MBRS
Reference thread:
http://wwtbambored.com/viewtopic.php?f= ... 02#p399702
(found it)
http://wwtbambored.com/viewtopic.php?f=1&t=36229
(Bored Goop thread)
#300. "Isabella Angel"
Debuted: 9/19/11
Sliver posted a picture of her granddaughter Isabella striking a cute pose in a Sooners cheerleading outfit, and ES found it much too sweet not to draw on as the inspiration for a milestone avatar. While the finished product looks quite stiff compared to the original picture (As someone I work with would say, Angel appears to have a turd caught sideways.. and this seemed to be somewhat confirmed when Bob78164 asked why Angel was doing the "pee pee dance"), it is still the style of cute that only Angel can capture, and I'm sure that little Isabella would approve of.
Characters: Angel
Reference thread:
http://wwtbambored.com/viewtopic.php?f= ... 75#p399775
Avatars 301-325 >>>
<<< Avatars 251-275